Lethem Branch Opening Hours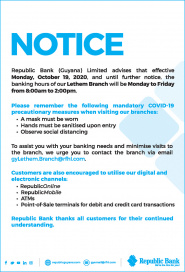 The banking hours of the Lethem Branch will be Monday to Friday from 8am - 2pm from Monday 19th October, 2020.
18 Oct 2020
NOTICE: Banking Hours
Effective Monday, October 5, 2020 our banking hours would be adjusted.
02 Oct 2020
For Sale By Tender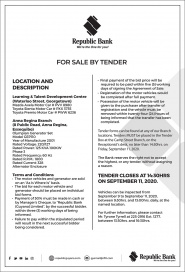 Tender closes at 14:30hrs on September 11, 2020.
08 Sep 2020
Forex Rates
| ABBR. | SELL (Drafts) | SELL (Notes) | BUY (Drafts) | BUY (Notes) |
| --- | --- | --- | --- | --- |
| USD | 211.5 | 211.5 | 208.5 | 208.5 |
| CAD | 148 | 148 | 145 | 145 |
| GBP | 243 | 243 | 240 | 240 |
| EURO | 228 | 228 | 225 | 225 |
| TTD | 31 | 30 | 27 | 22 |
| XCD | 73 | 73 | 70 | 70 |
| BBD | 93 | 93 | 88 | 88 |
See all rates