Celebrating 185 years of Banking Together
We look forward to serving you throughout the next 185 years and beyond.
01 Dec 2022
A New Batch Of Apprentices Join The Republic Bank Family
Fifteen high school graduates will soon commence their seven-month apprenticeship with Republic Bank (Guyana) Limited.
21 Nov 2022
NOTICE: Annual Meeting of Shareholders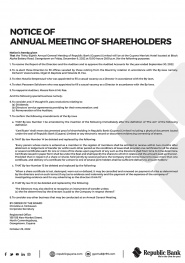 The 38th AGM of Republic Bank (Guyana) Limited will be held on Friday 9 December, 2022 at 15:00 hours at the Guyana...
17 Nov 2022
Forex Rates
| ABBR. | SELL (Drafts) | SELL (Notes) | BUY (Drafts) | BUY (Notes) |
| --- | --- | --- | --- | --- |
| USD | 217 | 203 | 208.5 | 200 |
| CAD | 148 | 148 | 145 | 145 |
| GBP | 243 | 243 | 240 | 240 |
| EURO | 208 | 203 | 195 | 195 |
| TTD | 31 | 30 | 27 | 22 |
| XCD | 73 | 73 | 70 | 70 |
| BBD | 93 | 93 | 88 | 88 |
See all rates