Farewell to a business and banking icon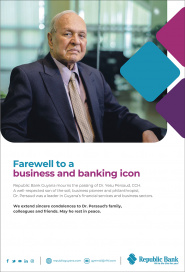 We extend sincere condolences to Dr. Persaud's family, colleagues and friends.
17 Jan 2022
Lethem Branch Reopened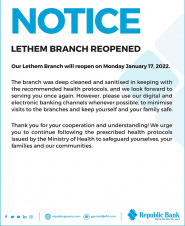 Our Lethem Branch reopened on Monday 17th January, 2022.
17 Jan 2022
Temporary Branch Closure - Lethem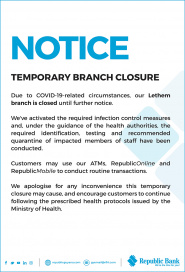 Due to COVID-19 related circumstances, our Lethem Branch is closed until further notice.
05 Jan 2022
Forex Rates
| ABBR. | SELL (Drafts) | SELL (Notes) | BUY (Drafts) | BUY (Notes) |
| --- | --- | --- | --- | --- |
| USD | 211.5 | 203 | 208.5 | 200 |
| CAD | 148 | 148 | 145 | 145 |
| GBP | 243 | 243 | 240 | 240 |
| EURO | 228 | 228 | 225 | 225 |
| TTD | 31 | 30 | 27 | 22 |
| XCD | 73 | 73 | 70 | 70 |
| BBD | 93 | 93 | 88 | 88 |
See all rates