PMAD Scholarship Awardees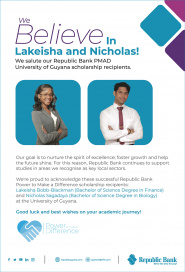 We salute our Republic Bank PMAD University of Guyana scholarship recipients.
24 Jan 2023
Republic Bank Pays Off Customer's Mortgage In Full
Georgetown. Guyana, January 13, 2023: Republic Bank (Guyana) Limited is pleased to announce the winners of the Republic...
13 Jan 2023
RightStart First Born 2023
Giving firstborns a RightStart.
05 Jan 2023
Forex Rates
| ABBR. | SELL (Drafts) | SELL (Notes) | BUY (Drafts) | BUY (Notes) |
| --- | --- | --- | --- | --- |
| USD | 217 | 203 | 208.5 | 200 |
| CAD | 148 | 148 | 145 | 145 |
| GBP | 243 | 243 | 240 | 240 |
| EURO | 208 | 203 | 195 | 195 |
| TTD | 31 | 30 | 27 | 22 |
| XCD | 73 | 73 | 70 | 70 |
| BBD | 93 | 93 | 88 | 88 |
See all rates